JCM Appraisals is committed to providing a full understanding of the risk and value associated with a wide range of inventories.  Our analysis can be tailored to the needs of asset based Lenders, Financial Institutions, Investors, Bankruptcy Court and other professional organizations.
Specializing in the appraisal of Inventory associated with: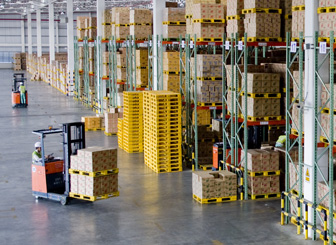 Manufacturers

Distributors

Importers

Agribusiness

Retailers
A Senior Appraiser is on site for each assignment to ensure that a breath of knowledge and experience is incorporated into the site visit and resulting analysis.
JCM Appraisals believes that responsibility to a Client does not end with the delivery of an appraisal. Subsequent to each report delivery, the Client is contacted by a Senior Appraiser to discuss its contents and confirm the satisfaction with our product. We welcome open discussion regarding all aspects of the appraisal, and our goal is to assure that the Client's expectations have been met.
Our appraisers work closely with each individual involved in the appraisal process.  Each appraisal provides a useable resource which can be used for making informed risk management decisions.
JCM Appraisals industry experts and analysts continuously monitor a broad range of industries, markets and economic conditions that could have a short-term affect on asset values. As changes are observed, it is our practice to share this information with Clients and, when we believe it is warranted, suggest an appraisal update.  Subsequent appraisal updates will highlight recent changes affecting the updated valuation.  A detailed analysis comparing the changes in the collateral between the two report periods is the primary focus of each appraisal update.
Our services help define risk before a credit line is approved; establish advance rates to control risk where changes in the Company are noted by the line officer; and limit risk when an exit situation arises or where fraud is suspected.
The standard deliverables of a JCM Appraisal include:
Date of Appraisal.

Description and Scope of Appraisal.

Exit strategy (if multiple strategies are recommended, an outline will be provided by order of recommended preference).

Orderly Liquidation Value by major product categories.

An analysis of the inventory which will include an aging of the inventory and a breakdown by major product category.  We will look at the balance of the inventory and its value in a liquidation.

Key collateral monitoring points which would affect the ongoing value of the inventory.

Positive and Negative factors that could affect the liquidation value.

A discussion of slow moving inventory, the basis upon which the Company identifies slow moving inventory and comments on our independent analysis as it pertains to the validity of the Company's assessment of slow moving inventory.

A schedule of applicable liquidation expenses.

A discussion of the Company's systems, controls and reporting capabilities.

A discussion of the Company's costing methodology.

A discussion of how major customer concentrations might affect the NOLV.
Detailed information pertaining to seasonal inventory levels and seasonal sales volumes, if applicable.

Information pertaining to the Company's physical inventory procedures, inventory adjustments and, when applicable, inventory reserves.

A discussion regarding the flow of inventory through the distribution center/warehouse, with attention on the efficiency of the operations and inventory controls in place to manage the receipt, storage and shipment of inventory.

Information relating to the Company's normal pricing of products, ongoing discounts and/or selling terms.

Discussion regarding any current competitive, or near-term market factors.

Evaluation of the Company's return policy and its affect on the inventory in a liquidation.

Discussion regarding warranty issues affecting the inventory.

Discussion of any regulations, permits or licenses affecting the inventory.

A description of the units of measure.

A Listing of all source documents used in the appraisal process.